Add the power negotiation to your store with WooCommerce Offers!  Our "Make an Offer" plugin allows potential buyers to submit offers for products on your web site.  You may accept, decline, or counter the offer, and counter-offers may go back and forth until there is an agreed price.  Offers are a great way to establish communication with potential buyers!
Fix – Resolves a problem with the Offer ID localization/translation.
Fix – Resolves a PHP notice.
Fix – Resolves a compatibility issue with Buddyboss forum plugin. 
Tweak – Adjusts the CSS for Offer Button. 
Tweak – Minor adjustment to JavaScript. 
Tweak – Updates plugin action links. 
v2.0.1.1 – 07.09.19
Tweak – Minor adjustment to JavaScript.
v2.0.1 – 05.31.19
Feature – Adds AE notification system. 
Fix – Resolves issues with expiration date formatting. 
v2.0.0 – 04.30.19
Feature – Adds AE Updater compatibility for future notices and automated updates. 
Tweak – Moves plugin from free to paid. 
Tweak – Adjusts CSS related to offer section of product page. 
Tweak – Removes BN code override. 
Tweak – Conditionally add markup. 
Fix – Resolves errors in the MailChimp integration.
Fix – Resolves issues with price formatting causing some calculations to fail. 
Fix – Resolves many small, random issues.
Fix – Resolves a PHP undefined variable. 
Fix – Resolves an issue where product categories/attributes quick edit does not work properly. 
This purchase is for a single site license that gives you access to updates and support for one year. After that, the plugin will continue to function as-is, but you will not be able to get updates or support until you renew the license.
Allowing potential buyers to make an offer for products in a WooCommerce store can be a very powerful thing.  Negotiation tactics come into play which can not only be fun, but will also certainly increase your sales.
"Wheenling-and-dealing" is human nature.  This is something that is often forgotten in the world of online shopping.  Take advantage of this proven tactic by adding our WooCommerce Offers plugin to your website today!
Features of WooCommerce Offers
Make an Offer Button
Add a Make an Offer button to your product details pages and/or your product list pages.
Make an Offer Form
Potential buyers can fill out the Make an Offer form to submit their WooCommerce Offer based on the quantity and price they are hoping for.
Managing WooCommerce Offers
Offers List
Manage your WooCommerce offers from the list of Accepted, Pending, Completed, Countered, or Declined offers.
Offer Details
From the Offer Details screen, you can choose how to reply to an offer and make adjustments at any time.
Product Level Options
Adjust WooCommerce Offers options at the product level to enable/disable features on specific products.  Also includes rules for automatically accepting or declining offers.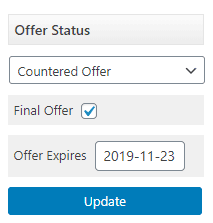 Counter Offer Options
When submitting a counter offer, the store admin can set options for Final Offer and an Offer Expiration Date.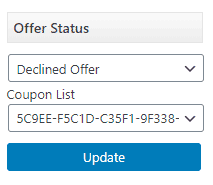 Decline Offer Options
If declining an offer you can choose to include a coupon code, so that the buyer may potentially place an order that way.
Communication
Any time you reply to WooCommerce Offers, you may include a message to the buyer with a direct line of communication.
New Offer (Admin)
When a potential buyer submits an offer, the site admin receives an email with the offer details and options for responding.
Offer Accepted
When an offer is accepted by the site admin, the buyer will receive an email with a button to pay at the accepted offer price.
Counter Offer
When the site admin submits a counter-offer, the buyer will receive an email with options to Pay at the counter price, or submit another counter-offer.
Offer Declined
When an offer is declined, the buyer will receive an email notification.  If the admin chooses to include a coupon code, this will be included in the email.
Marketing Benefits of WooCommerce Offers
Increase Conversion Rates
WooCommerce Offers increases the chance that potential buyers will contact you.  This allows your sales team to negotiate and convert leads.  In turn, this will increase your overall conversion rate.
Cross-Selling and Upselling
When a buyer makes an offer, this opens a direct line of communication with a person interested in your specific product.  Take advantage of this to offer additional products and/or package deals that will drive more revenue.
Email Marketing
Add a newsletter sign-up option to your WooCommerce Offer form, and quickly build your mailing list with buyers interested in your products.