PayPal Professional Payments, Done Right the First Time
Hi, I'm Drew Angell, owner of Angell EYE.  I am a PayPal Partner, Certified PayPal Developer, 3-Time PayPal Star Developer Award Winner, and a PayPal Ambassador.  My personally trained team can handle your PayPal integration requirement without worry, and we'll do it right the first time.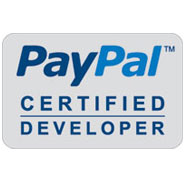 Featured Certified PayPal Developer Products
These are our most popular certified PayPal developer tools.  Whether you're looking to integrate PayPal into WordPress / WooCommerce, or looking for a general PayPal PHP SDK to integrate PayPal into your custom applications, you're certain to find what you're looking for here.
Ace Certified PayPal Developer
Andrew Angell, the owner and lead developer for Angell EYE, has been a certified PayPal developer for over 12 years, and is also an official PayPal partner.  In that time, his reputation within PayPal led to the label of an "Ace Developer", which has only been applied to a few developers across the world. Angell EYE has extensive experience integrating PayPal into various web sites and applications, and PayPal's own integration specialists recommend our products and services every day to high volume PayPal merchants. We have also been contracted by PayPal to build custom projects for use within PayPal's private networks at their campuses in San Jose, CA as well as Omaha, Nebraska.