PayPal has long been a leader in the payments industry.  They started online, but have grown into an all-encompassing payment platform for both online and retail / point of sale transactions.
Along the way they have acquired other payment companies that offer similar products and services in order to bring them all under one umbrella; PayPal.
Since the acquisition PayPal has been making moves towards bringing Venmo into the PayPal payments platform, which is exactly what we'll be discussing in this article.
Let's get into it!
Venmo is a payment service that makes it quick and easy to purchase items without using a credit card.
It made a name for itself with the social aspect of the platform, where students, family, and friends can easily "settle up" with each other.  
When you send a payment to somebody on Venmo you can include a simple note, and add a personal touch by including emojis and funny comments that are open for others in your network to see in a rich and authentic way.
This social interaction can lead to additional sales by way of friends and family seeing the purchase on their feed, sparking their curisoty, and resulting in them purchasing the same thing their friend did.  Huge power behind this!
When you register with Venmo you connect your bank account, and then you can easily send payments, split checks, settle personal debts, etc. from a quick and easy interface.  No credit cards, and no fees for this personal level of interaction on the platform.
PayPal has been working hard to bring this experience to the standard checkout experience, which is now available for all PayPal merchants!
Pay with Venmo at Checkout
As mentioned, PayPal has been working hard to bring the Venmo experience into their overall payments platform.
They launched a new developer integration system called PayPal Complete Payments which adds PayPal Checkout, Buy Now Pay Later, Direct Credit Card Processing, and now Venmo in a single integration.
Venmo has typically been considered a more personal payments tool, and it's designed to work through the mobile app.
When PayPal first launched their payment Smart Buttons, Venmo was included, but it would only show up if the buyer was on a mobile device because the mobile app is necessary to complete the payment.
PayPal has brought the Venmo experience directly to Checkout so that loyal Venmo users are now able to choose this as their preferred payment method when paying for an order online.
The social aspect of Venmo brings a unique experience to marketing and payments.  Let's take a look at an example of how a situation might play out with Venmo involved.
Let's consider an example between friends, Jony and Sara.
Sara checks her Venmo feed, much like any other social network feed, and sees that Jony purchased an ice cream maker online from a store called Daka.  
She and Jony have similar interests, so she decides to visit the merchant's website and take a closer look.
78%
of US consumers would share merchant information after a purchase.
50%
of US consumers have purchased at least 1 item online or in-store after seeing it on a friend's social feed.
Kelton Research, Survey of 2,115 US Adults, June 2018
Pay with Venmo – Mobile Checkout
At the merchant website, from her mobile device, Sara is able to quickly and easily purchase the same item.
Pay with Venmo – Desktop Checkout
If Sara was on her desktop computer at the time instead of her mobile device, she could add the item(s) to her cart like usual.
On the payment screen, she would choose Venmo, and would be presented with a QR code.
Scanning this code with her phone would launch the Venmo app and allow her to complete the payment process accordingly.
Split Purchase and Share with Friends
Let's say Sara's friend Heather would like to share the ice cream maker.  As such, she agrees to cover half of the purchase price.
Sara is able to split the purchase with Heather through Venmo, and then share this on her Venmo feed for other friends to see and potentially buy an ice cream maker from Daka as well!
As you can see from the example above, the potential of driving more sales through the social sharing aspect of Venmo is huge!
Also, simply having Venmo as an additional payment option at checkout can increase conversion rates on your site.  Nothing's worse than seeing an abandoned cart simply because you didn't offer the payment method that particular buyer preferred.
The Venmo user base is younger, more affluent, and more digitally savvy in their everyday lives.
Adding Venmo to your checkout experience gives you the ability to reach this demographic directly.
70 Million
Venmo users, who tend to be younger and more affluent than the general US population.
+32%
Annual growth of Venmo consumers.
92%
have purchased at least 1 item online over the past 6 months.
89%
prefer to pay with Venmo because they trust the brand, it is easy to use, and it allows them to split purchases.
Venmo Behavior Study, survey of 2,217 US Venmo consumers, October 2020.
As consumers, we want the ability to quickly, easily, and securely pay for the stuff we're buying.  
This is happening more and more online, where filling out forms and dancing around fraud schemes has become a normal routine.
PayPal changed this game, and provides the quick, easy, secure option that many of us are looking for.  It's still the most widely used payment method online, but not all of us have or use PayPal on a regular basis.
Venmo gives us another option that is hooked directly to our bank, and gives us the social aspect that PayPal itself may not provide.  This can make those in the younger demographic feel more "at home" with everything else they do online and in social networks.
Frictionless Payments
The Venmo checkout experience lets consumers complete their purchases with minimal friction by allowing them to pay from mobile or desktop computers without typing in checkout forms or logging in to accounts.
Split Purchase Capability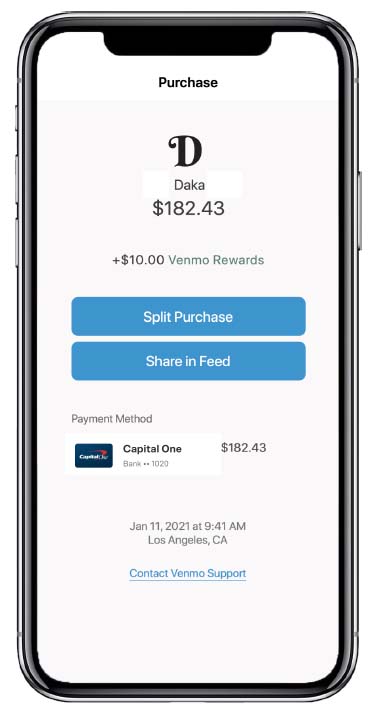 The consumer may split and share Venmo purchases with friends.
Venmo payments are shown in the Venmo app, making it easy to split the cost with friends later in a few taps.

This option to split purchases may increase flexibility and therefore may help increase conversion.

89% of Venmo consumers prefer to pay with Venmo because they trust the brand, it is easy to use, and it allows them to split purchases.
Get Started with Venmo in WooCommerce Today!
Need More Help?
If you have any questions or concerns feel free to submit a ticket to our help desk.  Our support team will be happy to help!