PayPal has slowly begun introducing crypto currencies to their platform, and they have started with Bitcoin, Litecoin, Ethereum, and Bitcoin Cash.
They allow you to purchase these crypto currencies within your PayPal account, hold them, and then sell at a later date for (hopefully) a profit.  
In this article I'm going to show you how to buy and sell crypto currencies with PayPal, but what's even better is that I'm going to show you how you can potentially obtain these crypto currencies for FREE!
Let's get started!
Step 1 – Earn 2% Cashback Rewards with PayPal Mastercard
PayPal Cashback MasterCard
Apply for a

PayPal MasterCard

and earn 2% cash back on every purchase.

Use the credit card only buy things you were going to buy anyway!
Always pay the credit card statement balance in full each month so you never pay interest!
Always pay on time so you never pay late fees!

Over time you will build up a nice balance of cashback rewards.
Step 2 – Redeem Cashback Rewards to PayPal Balance
Step 3 – Buy Crypto Currencies
From your PayPal account dashboard, click the Crypto icon to view the Crypto dashboard.
Click the buy button next to the crypto currency you would like to purchase.
Click one of the pre-filled buttons for the amount you would like to purchase, or click the Buy button to enter a custom value.
Choose the PayPal Balance to use the cash rewards we claimed in step 1.  Alternatively, choose any method you would like to use.
Review the details of the crypto currency purchase transaction you are about to complete.  Click Buy Now when you are ready.
Woohoo!  Your PayPal crypto currency purchase is complete!
Step 4 – Sell Crypto Currencies
From your PayPal Crypto dashboard, click the Buy / Sell button next to the crypto currency you are selling, and follow the prompts to complete the sale.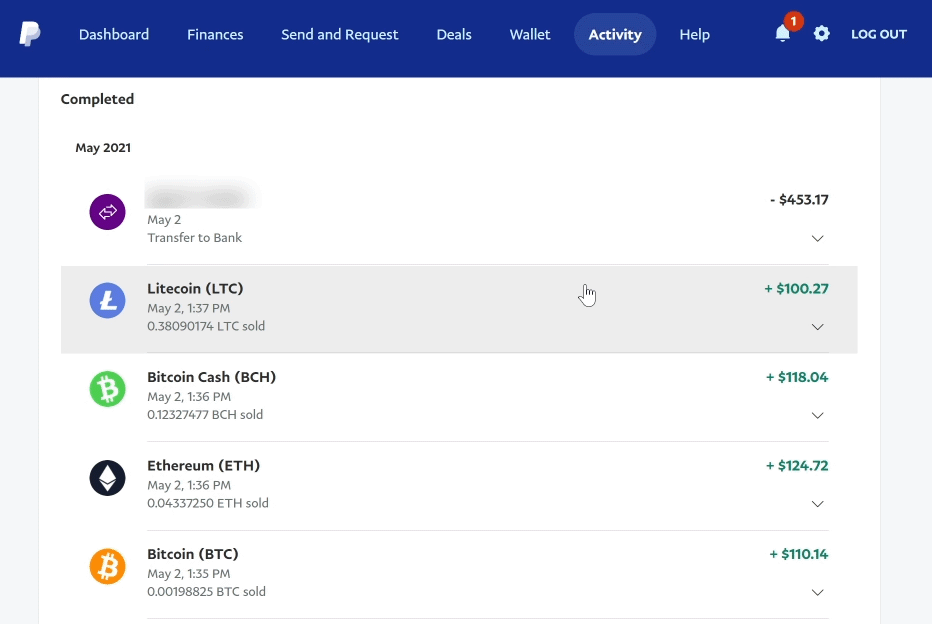 Review your PayPal Crypto activity log for the new balance in your account, and optionally transfer to your bank account.