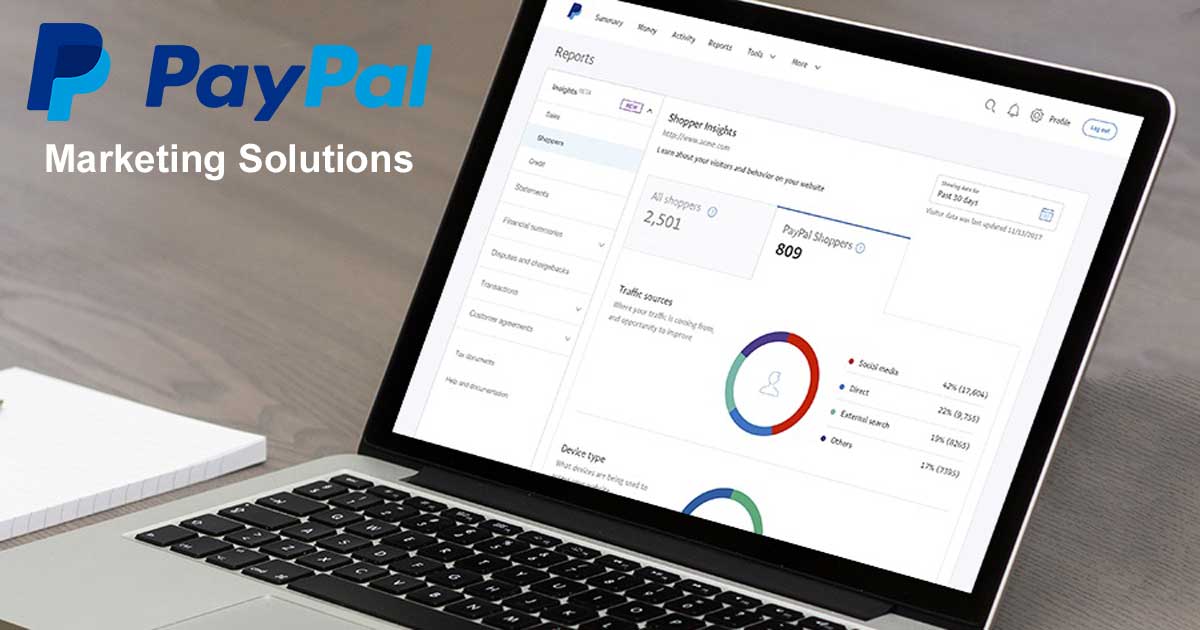 PayPal Marketing Solutions combines promotional banners for PayPal Credit on your site with shopper analytics tools.  These tools allow sellers to better understand what their customers are looking for and create an engaging shopping experience that helps to increase sales and average order amounts.
Shopper Insights
The PayPal Marketing Solutions functionality includes Shopper Insights designed to help increase sales by providing business owners with valuable, analytical feedback about the behaviors and preferences of buyers on a website.
How many shoppers are using mobile devices?
How many shop for big ticket items vs. small ticket items?
How does my site compare to competitor sites with regard to attracting customers?
Shopper Insights reports are available within your PayPal account.  These reports also provide recommendations for how to help turn potential buyers into customers, and customers into loyal patrons.  As a result, you will find that your website sales grow more quickly!
Learn how many PayPal customers visited your site and made a purchase within the last 7, 30, and 60 days.
Discover the average amount of orders placed on your site, and watch it increase with the additional of PayPal Marketing Solutions.
See what types of devices your customers are using to access your website.
See how many buyers have taken advantage of PayPal promotional offers like PayPal Credit with 6 months of interest free payments.
Smart Incentives
In additional to the Shopper Insights and Analytics features, PayPal Marketing Solutions also provides the ability to engage with buyers at the beginning of their shopping experience through the Smart Incentives features.  This feature displays promotional banners on your website that advertise the availability of features like PayPal Credit and One Touch.
These banners display and engage the potential buyer well before the checkout experience begins.  As a result, buyers know immediately that financing options like "6 months, 0% interest" are available.  This leads to higher conversion rates and increased average order amounts because buyers know they have more time to pay.
Activating PayPal Marketing Solutions
PayPal Marketing Solutions features are available to merchants using PayPal payment products (ie. Payments Standard, Express Checkout, etc.) on their website.  Depending on how your website was built you have different options for activating and installing the PayPal Marketing Solutions code on your site.
PayPal for WooCommerce
Are you using WordPress and WooCommerce as your online store platform?  If so, great news!  PayPal Marketing Solutions is seamlessly integrated into our PayPal for WooCommerce Express Checkout payment gateway.  Therefore, it's extremely quick and easy to activate.  If you are not already using our PayPal for WooCommerce you may quickly install it via the WordPress plugin directory.  Then configure it to suit your needs, including the activation of PayPal Marketing Solutions.
BigCommerce
Are you running your site on the BigCommerce platform?  Install the PayPal Marketing Solutions module to auto-enable PayPal Credit banners on strategic pages throughout the shopping experience.
Standard / Custom Website
If you are not able to find an existing plugin / module for your website platform you can still easily add PayPal Marketing Solutions to your site.  Just load this page, click the Get Started button, and follow the steps to activate features on your account and then install the JavaScript snippet of code on your site.